Cake Bake and Sweets Show 2015

Cake Bake and Sweets Show, Melbourne!
It doesn't seem that long ago that we were at Melbourne's 2014 Cake Bake & Sweets show, yet the 2015 sprung up before we knew it! Not that we minded, we love getting out and about, letting people know who we are and sharing the Cake Angels love.
There are so many highlights from this year's show but before we get to that, we firstly want to say a HUGE thanks to the organisers of the Cake Bake & Sweets Show. They are massive supporters of Cake Angels and what we do and we really appreciate all their help in making it possible for us to be at the show and also their contribution to our raffle. We love you guys!!
A major highlight for us was having our very own Cake Angels product available to sell at the show. We want Cake Angels to be not only an amazing charity, but also a wonderful community, and we want to be known far and wide! And what better way to do that than to have our supporters and volunteers proudly wearing a cap or a t-shirt or taking their Cake Angels coffee cup to work? Actually, the mugs and lapel pins were quite popular!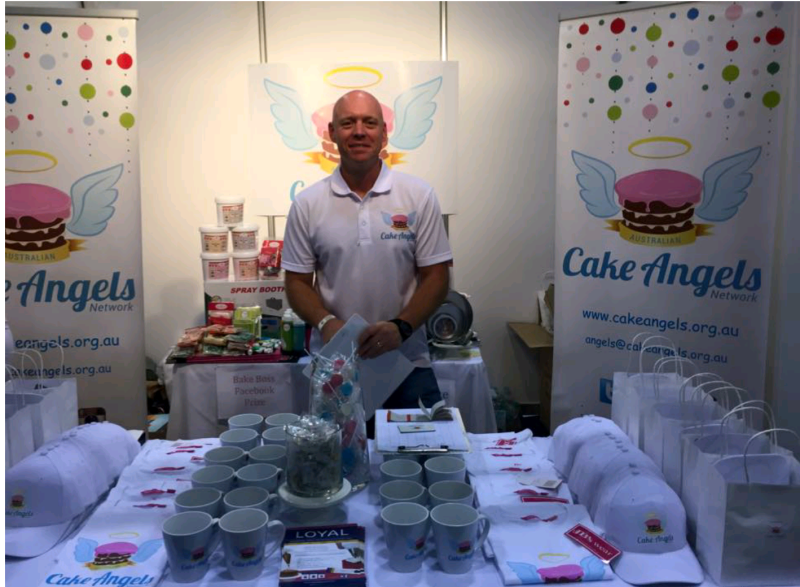 Man Angel Steve proudly showing off our wares!
We did three raffles at the show this year, with one lucky winner drawn each day! Each hamper was over $300 in value and our three winners were very happy with their prizes!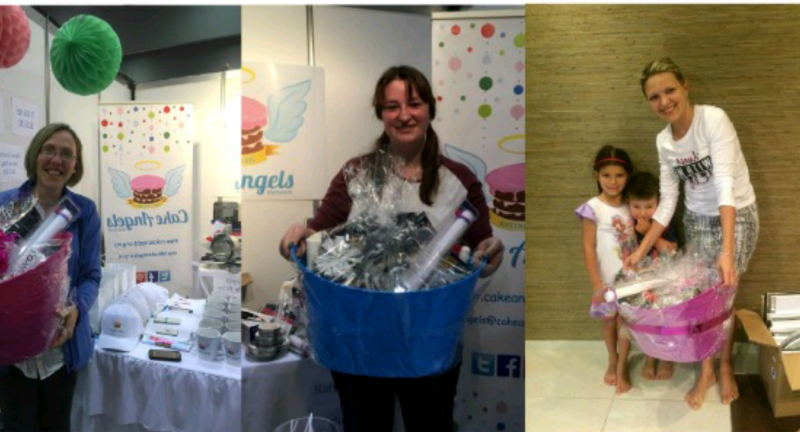 Our winners Michelle, Emily and Damian's mum!
Just for something a bit fun, we also ran a Facebook competition in conjunction with Bakeboss, where cakers posed with their Bakeboss product and then posted a pic to Facebook using either #cakeangels, #cbss or #bakeboss hashtags to win over $500 worth of cake decorating goodies, including an airbrush and spraybooth! Congratulations to our lucky winner Nicole Haywood!!
We were pretty chuffed to be approached by a magazine who has offered to give us a four-page spread in each of their quarterly issues and also three radio stations who want to interview us! So that's exciting!
We had an absolute ball over the three days of the Cake Bake & Sweets Show and LOVED meeting everyone who came past our stand to say 'Hi!'. We are so thankful to our wonderful volunteers who gave up their time to come and help man the stand – an big thank you also to Steve, our very own man-angel, who stood proudly as the thorn between the roses for most of the weekend!
An extra big thank you needs to go to our Events Co-ordinator Mel. She literally worked her butt off to get us to the show, organise the raffles and prizes and co-ordinate the volunteer helpers. Awesome job Mel!
And lastly, thank you again to all of you for your support. We literally couldn't do it without you!
The Cake Angels Team xxx